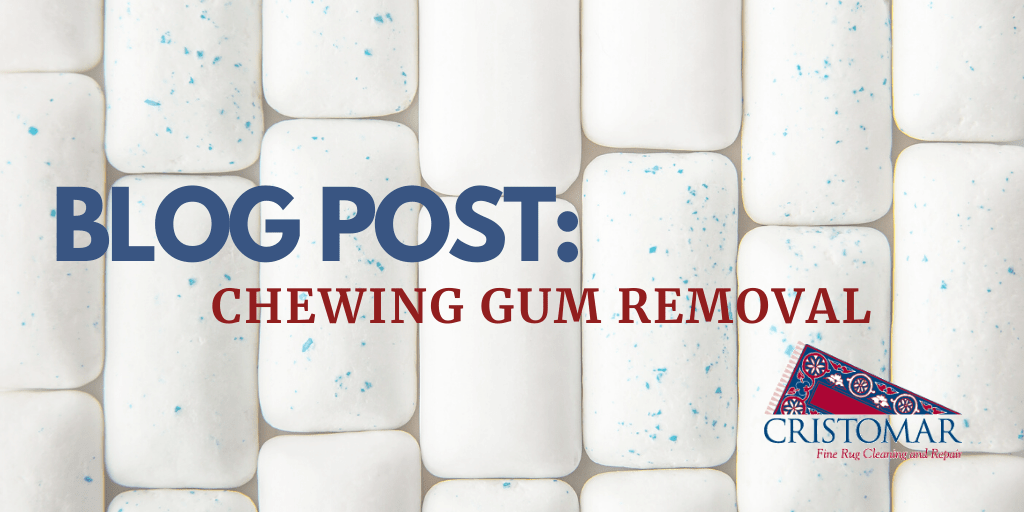 You have a beautiful rug in your living room, but all of the sudden, you drop a piece of chewing gum on the rug. The first thing to do in this kind of situation is to not panic! We have all of the best tips and solutions for cleaning chewing gum off your rug. Keep reading to learn how!
Ice, Ice, Rug.
One of the first things you should do to remove chewing gum from your oriental rug is to fill up a bag with ice cubes. You will want to hold the bag, or rest it on top of the gum, for roughly 15-20 minutes. The goal with the ice is to freeze the gum. When chewing gum gets cold, it hardens. With the gum hardening, it will become easier to remove without pulling up the rug.
Start Scraping
Once the chewing gum has hardened enough, you can use a flathead screwdriver or a metal scraper to begin slowly chipping off the gum. It is imperative that you are mindful of the gum's temperature, as once you start working on it, it will soften up and become looser. If the gum starts to soften, repeat step one to ensure you do not rip out the fibers of the carpet.
Scrubbing Solution
If the chewing gum has been in your rug for a while, you can create a solution to dampen your rug and remove the chewing gum. To do so, you will need one cup (8 oz.) of lukewarm water and one tablespoon of dishwashing soap. You will also need a soft toothbrush. Slowly start brushing the remaining spots of chewing gum until you can pluck them out. Once you have gotten rid of the chewing gum, you can begin the drying process.
Dry Your Rug
Before you start using your rug again, you will want to make sure it is dry. You can use a hair dryer (on low heat) to speed up the drying process. As your rug might be too big to move outside, it is recommended that you block it off from anyone walking on it until it is fully dry.
If you are looking to have your rug professionally cleaned, Cristomar offers Persian, Oriental, and area rug cleaning, as well as all types of rug repair! With our team of repair and cleaning specialists, we can repair damaged rugs and rebuild the full beauty and structure of your rug so that you can get great use of these heirlooms for many years to come.
Give us a call today! (770) 753-4242