Adding Color to a Wear Area
Adding Color to a Wear Area
This old, worn rug cleaned very well.   The cleaning allowed the beautiful yarn colors and design to show again; but it also allowed the worn areas to show the cotton foundation of the rug.
In the pictures, you can see the wear areas; Adding Color to a Wear Area corrected the dye colors for the exposed foundation; so you just see the beautiful design again.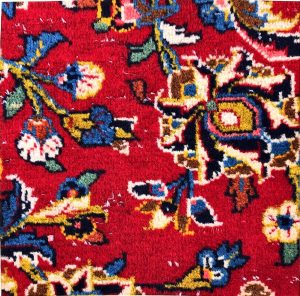 Before – Over dying
After – Over dying
To contact Cristomar, you can use the "Contact Us" Tab and scroll down to "Drop Us a Note"; or call: 770-753-4242.  We look forward to hearing from you so we can discuss our repair or cleaning process and the professional care of your antique, oriental or area rugs.
Visit us on Facebook:  @CristomarRugs,             (https://www.facebook.com/CristomarRugs/)