Tips to help keep your oriental and area rugs beautiful
This is a sponsored news article, from "NSW" (Northside Woman Magazine), published (August, 2018) by Appen Media Group, Alpharetta, GA; with an article on "Tips to help keep your oriental and area rugs beautiful".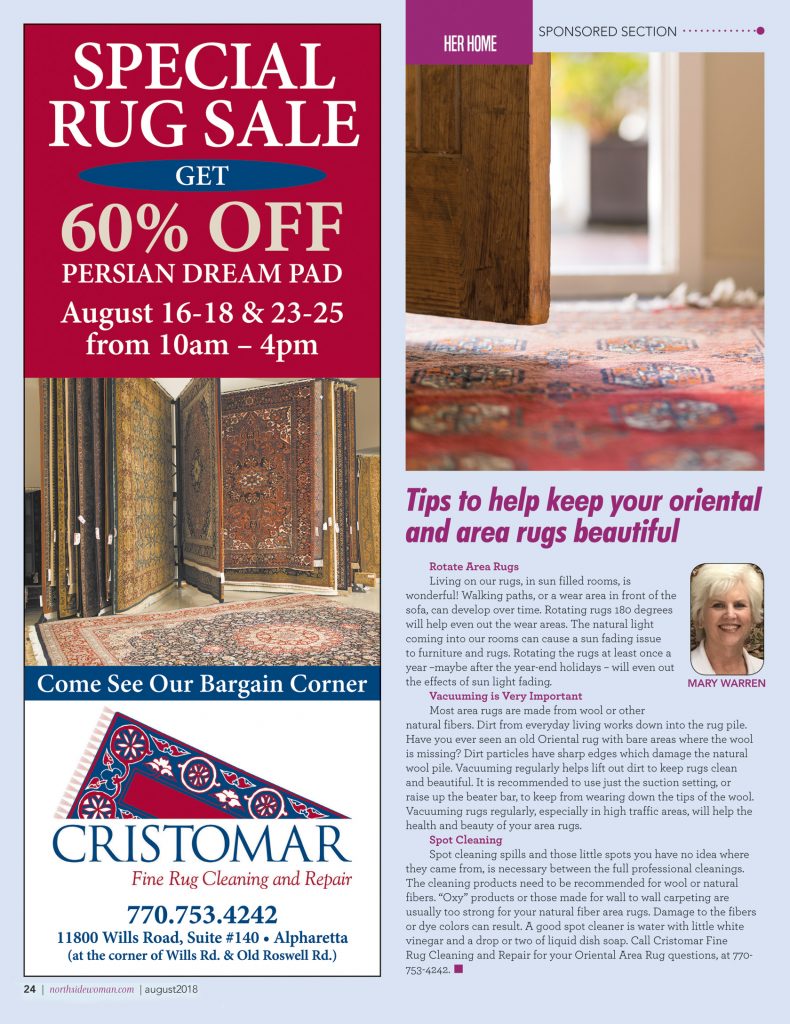 Rotate Area Rugs
Living on our rugs in sun-filled rooms is wonderful! Walking paths or a wear area in front of the sofa can develop over time. Rotating rugs 180 degrees will help to even out the wear areas. The natural light coming into our rooms can cause a sun fading issue to furniture and rugs. Rotating area rugs at least once a year – maybe after the year-end holidays – will even out the effects if sun light fading.
Vacuuming is Very Important
Most area rugs are made from wool or other natural fibers. Dirt from everyday living works down into the rug pile. Have you ever seen an old Oriental rug with bare areas where the wool is missing? Dirt particles have sharp edges which damage the natural wool pile. Vacuuming regularly help lift out dirt to keep rugs clean and beautiful. It is recommended to use just the suction setting or raise up the beater bar, to keep from wearing down the tips of the wool. Vacuuming rugs regularly, especially in high traffic areas, will help the health and beauty of your area rugs.
Spot Cleaning
Spot cleaning spills and those little spots you have no idea where they came from is necessary between full professional cleanings. Cleaning products need to be recommended for wool or natural fibers. "Oxy" products or those made for wall to wall carpeting are usually too strong for your natural fiber area rugs. Damage to the fibers or dye colors can result. A good spot cleaner is water with a little white vinegar and a drop or two of liquid dish soap.
To contact Cristomar, you can use the "Contact Us" Tab and scroll down to "Drop Us a Note"; or call: 770-753-4242. We look forward to hearing from you so we can discuss our cleaning process and the professional care of your antique, oriental or area rugs.
You may also like our other Post published in the "Northside Woman Magazine".
Visit us on Facebook: @CristomarRugs, (https://www.facebook.com/CristomarRugs/)